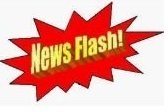 Alma Spikes Student Material Distribution
Shawn Carter
Wednesday, May 06, 2020
Alma Spikes material distribution is tomorrow, Thursday, May 7th. Classroom teachers will be out front from 11:00-1:00 and 3:30-5:30. They will be lining the drive through at the front of the building. Cars will enter at the second grade playground entrance(bus entrance) and pull forward until they locate their classroom teacher. Remember: Social Distancing requires that you do not leave your vehicle.
Spring Pictures and Yearbooks have not arrived and therefore require another pickup later in May.
Thank you and we look forward to seeing you tomorrow.