ABBIT Assembly Friday, April 15th. Schedule is as follows: 8:30 am: 3rd Grade 9:30 am: 4th Grade 10:30 am: 6th Grade 1 pm: 5th Grade

NWEA Testing begins April 11th - 15th of next week.

Attention: 6th Grade Students & Parents you may download a form for an athletic physical from the Pocahontas MDW webpage.

Cookie Dough has Arrived.. you may pick up now until 6 pm this evening. Thanks!

Congratulations to the MDW 4th Grade O.M. Team Winners and Coaches Mrs. Massey & Mrs. Kercheval.

Congratulations to MDW 5th Grade O.M. Team Winners, Coached by: The Hausman Team, Emily & Anthony! Go World.....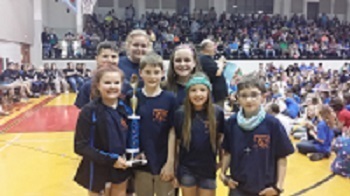 Town Hall Meeting April 14th beginning at 5 p.m. Hosted by the Randolph County Cornerstone at the Pocahontas First United Methodist Church. Alcohol & Drug Awareness Prevention in our community

COOKIE DOUGH DELIVERY INFORMATION The cookie Dough will arrive on April 7th. and will be available for parents to pick up their orders in the MDW Gym during the hours of 3:00 pm - 6:00 pm. Parents: we do not have storage capability to hold uncollected orders. Please make arrangements to pick up your order by 6 pm.

March 14th: Starburst Performance (in the gym) 8:30 am = 5th & 6th Grades 12:30 pm = 3rd & 4th Grades Fund Raiser Monies Due today... March 16th: Business Expo (GT Students) Bus leaves at 7:30 am.

Reader's Cafe Fund Raiser going on now at MDW. Deadline is March 14th. Students who sell 20 items will receive a FREE Kindle.

LifeTouch will be here tomorrow to take class pictures. Cost is $12 each. Checks are to be made payable to LifeTouch.

There is an updated version of our App for Android Phones now available in the Google Play Store.
https://goo.gl/FYMQZq

5th & 6th Grade Students are hosting Muffins for Moms tomorrow @ MDW Cafeteria beginning at 7:30 am.

Valentine Day Parties @ MD Williams Intermediate Friday, February 12th, 2016 Will be at Teacher's Discretion & Times TBA

Congratulations to Zoey Chadwick and Jaxon Dunham-Smith for having their stories selected for use in this year's Story Store production. Elements from their stories will be used in a stage production that will be performed by the Williams Baptist College theatre department.

Please be advised, the Deer, Turkey, Camel & Jet buses will run snow routes this afternoon. All other buses will run regular routes.

RANDOLPH CO. SPELLING BEE HAS BEEN CANCELLED FOR THIS EVENING and has been rescheduled for January 25th @ 6 pm.

January 22, ABBIT Program in the MDW Gym 3rd grade: 8:30 4th grade: 9:30 6th grade: 10:30 5th grade: 1 pm

6th Grade Spelling Bee Champs