Tonight's 7th Grade, Jr High, and Sr High Girls games at Blytheville have been canceled. A makeup date will be announced at a later time.

Boys Basketball Makeup Game Tonight starting at 4:00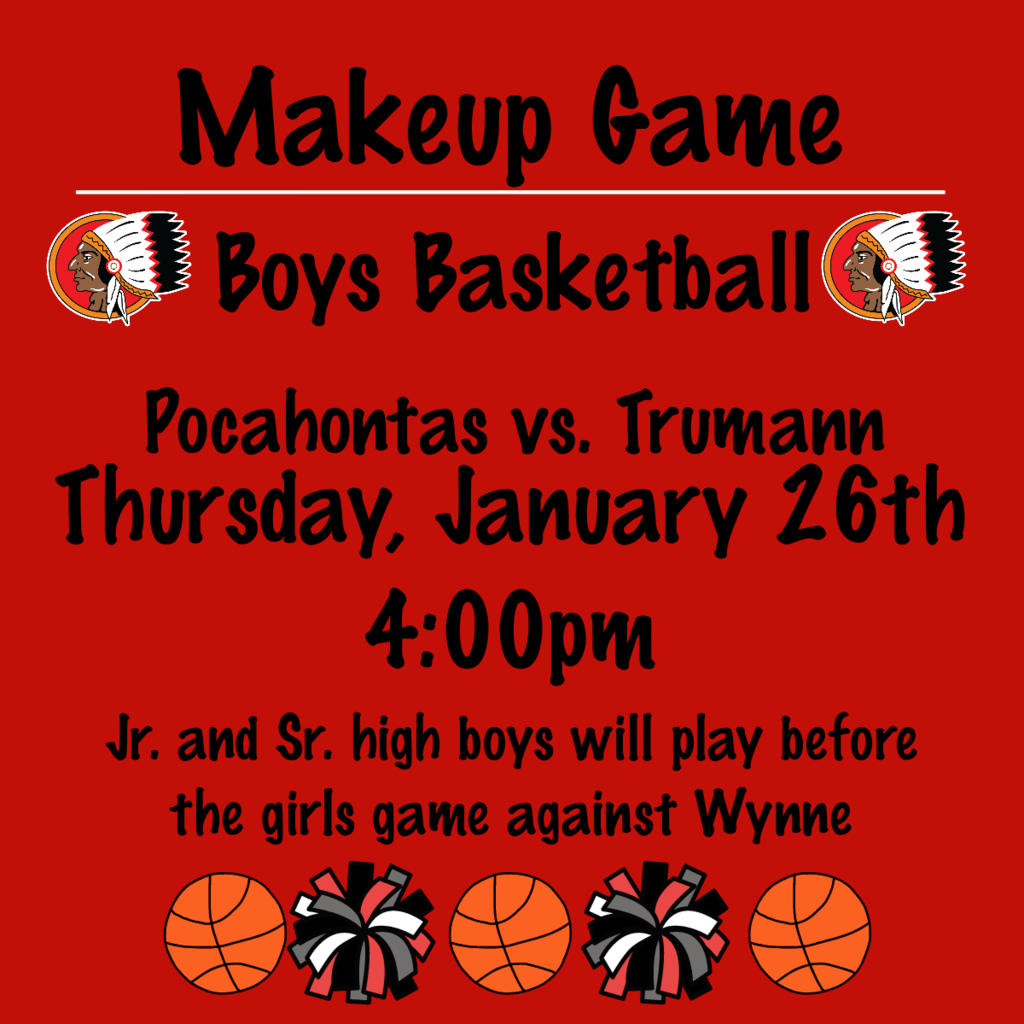 The Boys' games (JB/SB) against Trumann that were cancelled on Tuesday, 1/24, will be played Thursday, 1/26 at 4:00 before the girls' games against Wynne.

Character Trait Awards- December- Citizenship Wyatt Converse, Sophia Reintsma, Tripp Risley, Larson James, Lauren Berger, Allie Reagan, Haven Westerfield, Tori Nichols, Cory Bistow, Maggie Baltz, Zane Baltz, Aiden Difani, Zoey Winspear, Kaelyn Green, Aiden Camp, Hannah Sullivan, Brynn Smith, Eli Risley, and Noah Dilday. (no order-picture below)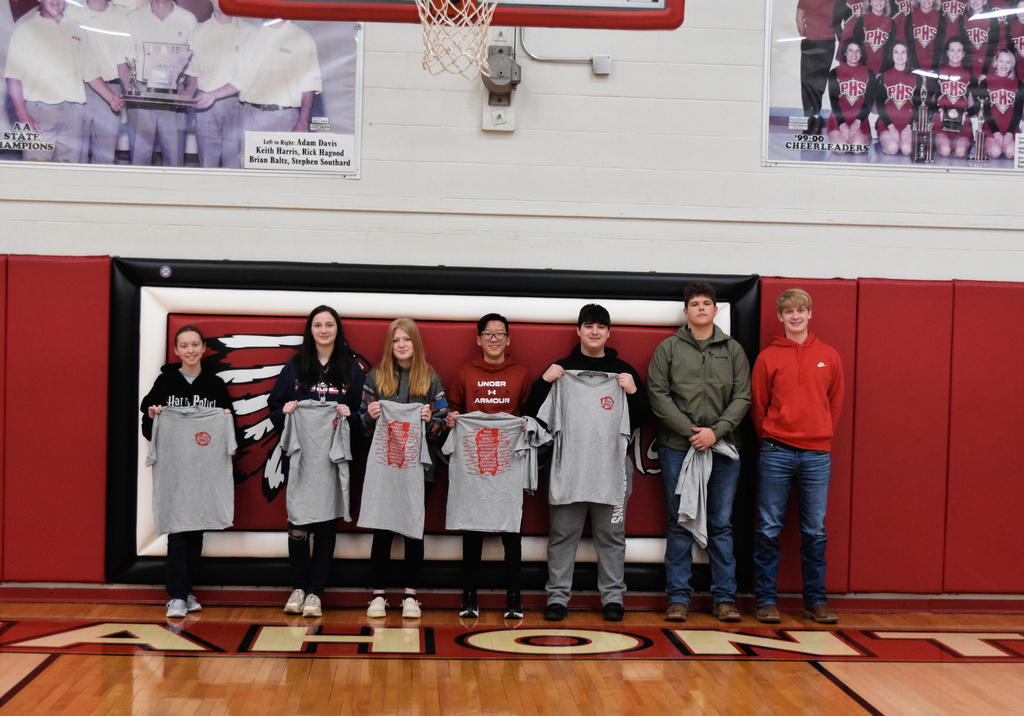 Character Trait Awards- October-Honesty/Integrity Kayden Mahan, Ktya Wray, Hope Molik, Michael Melokaton, Damien Tremblay, Hannah Rowe, Breona Johnson, Camron Rice, Cason Rice, Josh Anderson, Tripp Risley, Karson James, and Eli Risley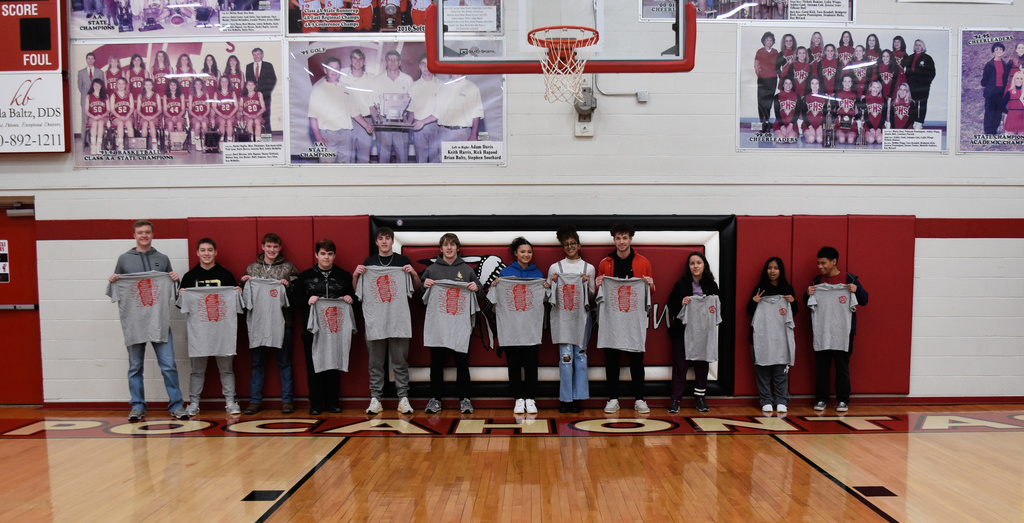 Character Trait Awards- November: Responsibility Jack Privett, Colin Simington, Autumn Jones, Josephine Niswonger, Elijah Shepherd, Tori Nichols, Cole Mandrell, Brooklyn Smith, Makenzie Massey, Olivia Murray, Brynn Smith, Evan Sullinger, Emma Conrey, Brianna Hassell, Maggie Baltz, Aiden Camp, Aiden Difani, and Zoey Winspear. (no order-picture below)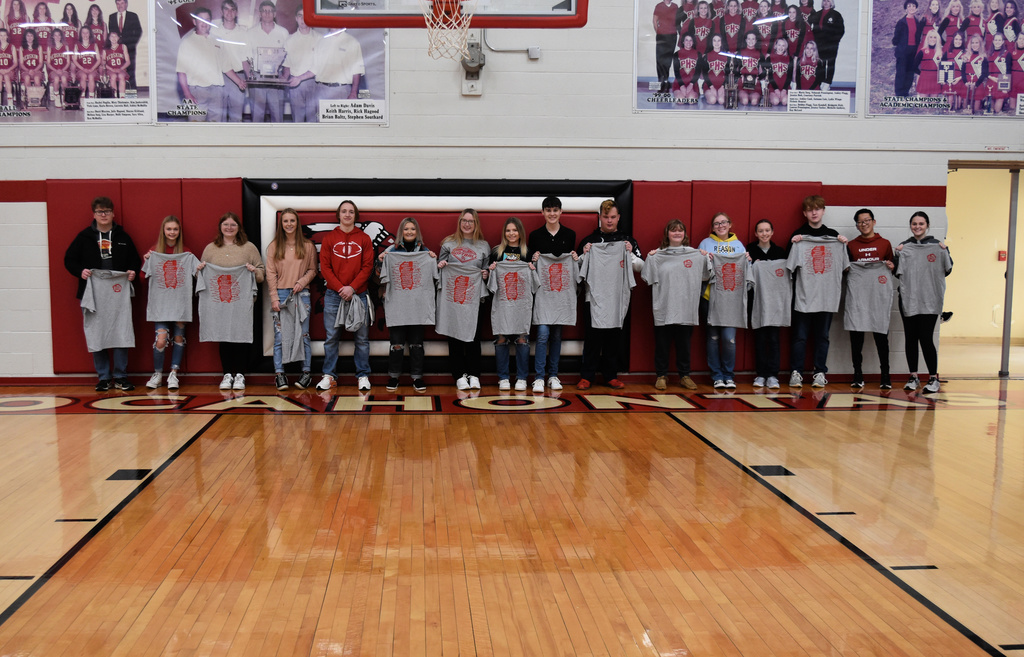 Academic Achievement Award-Top 5% of the Class Marcus Streeper, Jayce Tillie, and Clay Liebhaber (left to right-pictured below)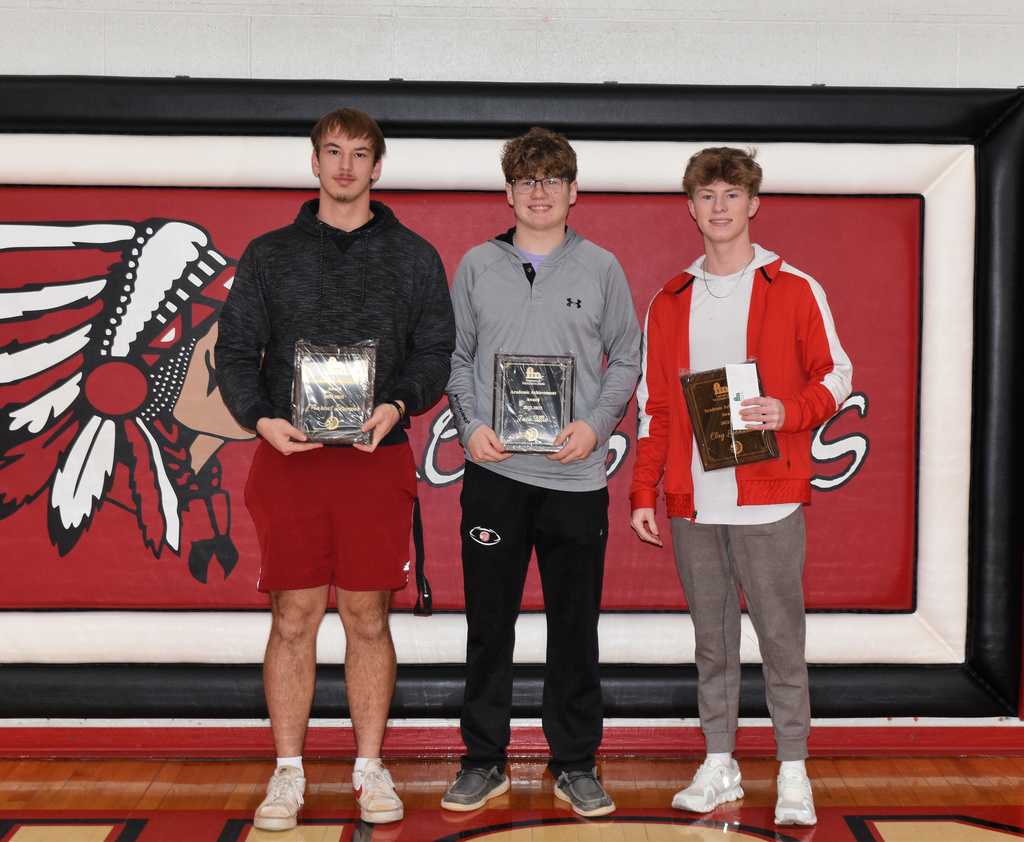 1st Semester AB Honor Roll Madison Bagwell, Peyton Barnes, Caydence Beal, Corey Callahan, Jerry Cayetano, Lauren Chester, David Coffey, madilynn Curtis, Cameron Daffron, Daisy DeClerk, Aiden Difani, Christa Doane, Lucy Donner, Isaiah Doty, Valarie Dubon-Garcia, Phyanna Echeverria, Bernise Enoch, Landen Gettings, Taylor Hall, Laci Hampton, Maccie Hampton, Ashlie Harris, Jake Harry, Sonia Hax, Chance Heavin, Stormee Jackson, Trent Johnson, Logan Jones, Tid Kios, Harmony Kisino-Loeak, Chase Land, Madison Langford, Shiloh Libokmeto, Wesley Ludwig, Michael Meloktakon, Charles Menard, Joslyn Nichols, Angela Pritchard, Samuel Pyles, Skyler Ray, Allie Reagan, Melanie Reagan, Ricky Regina, Joseph Roberts, Dallas Segui, Gabriel Sherwood, Emily Solis, Talon Taylor, Caleb Truitt, Destiny Ward, Lauren White, Tyler White, Jessie Young, Joshua Anderson, Lauren Anderson, Steven Baltz, Emily Baty, Claeb Bettis, Allie Brooks, Natalie Burns, Rowan Cannon, Dallas Cole, Aubree Dickson, Zayli Dos Santos, Zion Dos Santos, Malana Dribo, Jake Eveland, Zane Hibbard, Adian Lamb, Jaron Lindquist, Cole Mandrell, Lesli Martinez, Makenzie Massey, Courtney Meeks, Gage Parten, Jordyn Priest, Jackson Privett, Zachary Russell, Elijah Shepherd, Jalyn Shipley, Brooklyn Smith, Cooper Sorg, Lindsey Stimatze, Keeley Taylor, Luke Waymon, Evie Wedel, Zoey Winspear, Ktya Wray, Zachary Young, Jonathon Bailey, Aidan Blackwell, Emily Carman, Steven Carson, Harrison Carter, Taylor Crosson, Emily Floyd, Kaelyn Green, Jacob Grider, Londyn Hart, Anna Holt, Ashley Hufford, Larissa Isaac, Berlin Ivy, Isabella Jansen Stayley Johnson, Amber Jones, Carlie Jones, Rianna Kiech, Joanna Martin, Grayson Maupin, Kelsey Morris, Tory Nichols, Jasmine Nipps, Bishop Percell, Hannah Perkins, Evelyn Phelps, Anglina Phillips, isabella Pogue, Bryson Pratt, Rhyne Pratt, Cameron Rice, Cason Rice, Hannah Rowe, Colin Simington, Mallory Story, Spencer Stroud, Jonathon Ward, and Sydney White. (no order-picture below)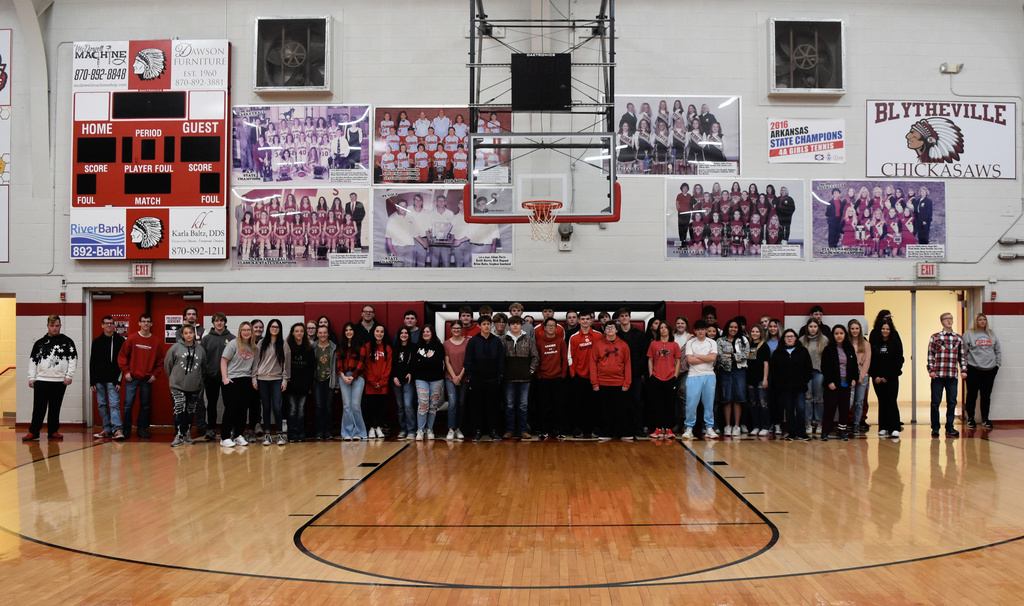 1st Semester A Honor Roll Maggie Baltz, Paisley Baltz, zane Baltz, makayla Barbe, Blair Baxley, Mareesa Beaver, Kynli Brandt, Aiden Camp, Carlie Chester, Wyatt Converse, Noah Dilday, Joshua Froehlich, Brianna Hassell, Abigail Liebhaber, Abby Pankey, Sophia Reintsma, Eligah Risley, Brynnison Smith, Karson Weitkamp, Lauren Berger, Kirsten Bounds, Abigail Fears, Olivia Fears, Paige Massey, Olivia Murray, Josephine Niswonger, Kenan Ogden, Carly Tribble, Paige Callahan, Trey Collins, Hank DuBois, Madison Duff, Nena Froehlich, Brook Hardy, Haily Hogan, Karson James, Lawson James, Clay Liebhaber, William Mason, Martha Meloktakon, Daniel Morris, Chet Orick, Danii Phillips, Tim Risley, Marcus Streeper, Jayce Tillie, and Raymon Weed Jr. ( no order-picture below)

A Honor Roll for College Classes Kirsten Bounds, Abi Fears, Olivia Fears, Hailey Hogan, Clay Liebhaber, William Mason, and Marcus Streeper (no order-picture below) AB Honor Roll for College Classes Aidan Lamb, Luan Le, Jonathon Bailey, Harrison Carter, Hank DuBois, Nataley Girtman, Kaelyn Green, Londyn Hart, Isabella Jansen, Kelsey Morris, Bishop Percell, Evelyn Phelps, Isabella Pogue, and Spencer Stroud. (no order-picture below)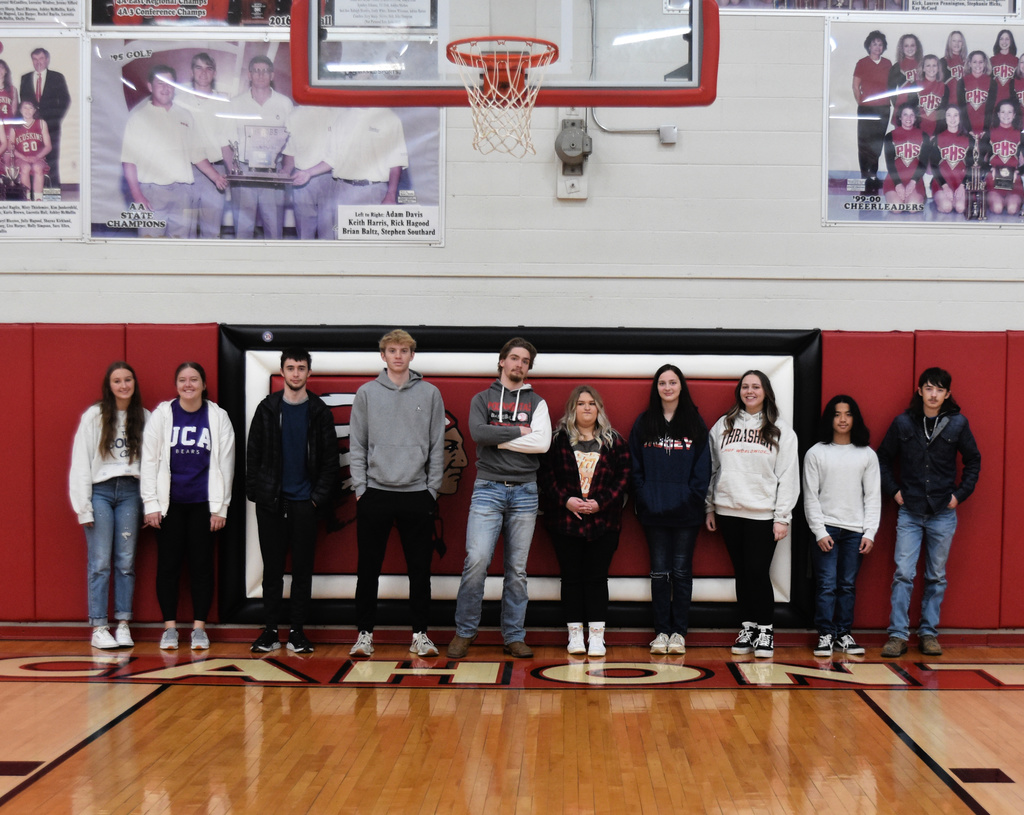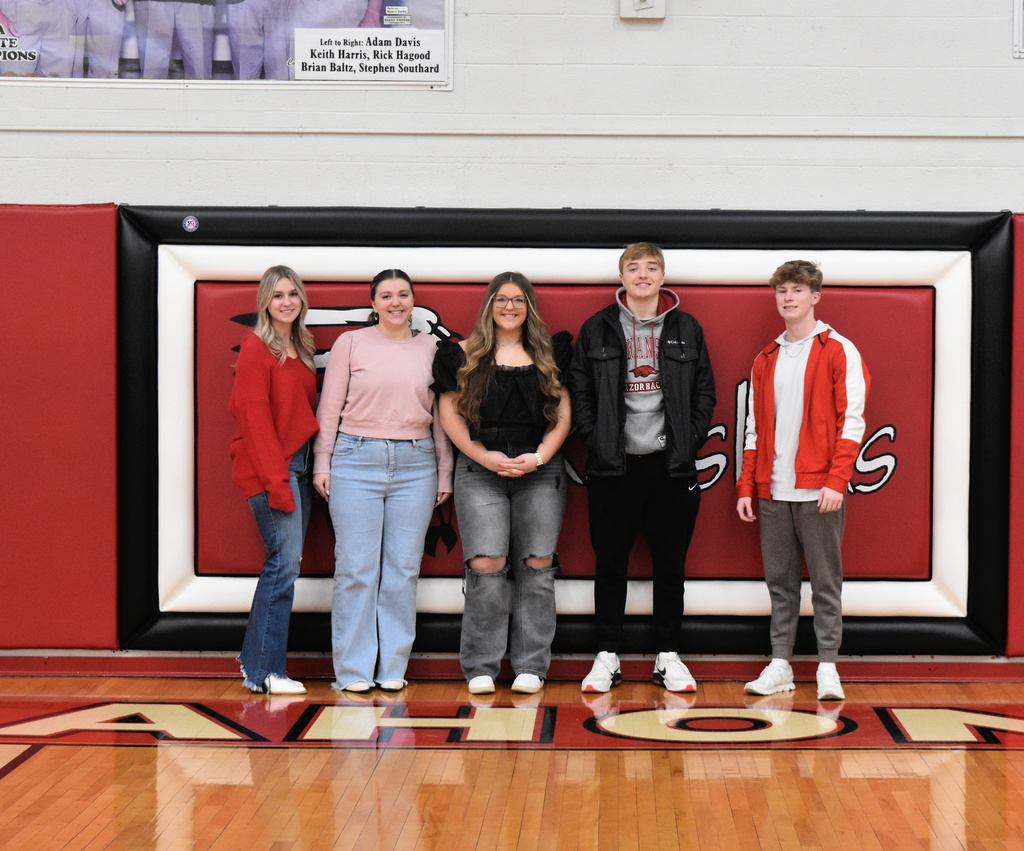 Due to likely weather, tonight's game has been canceled.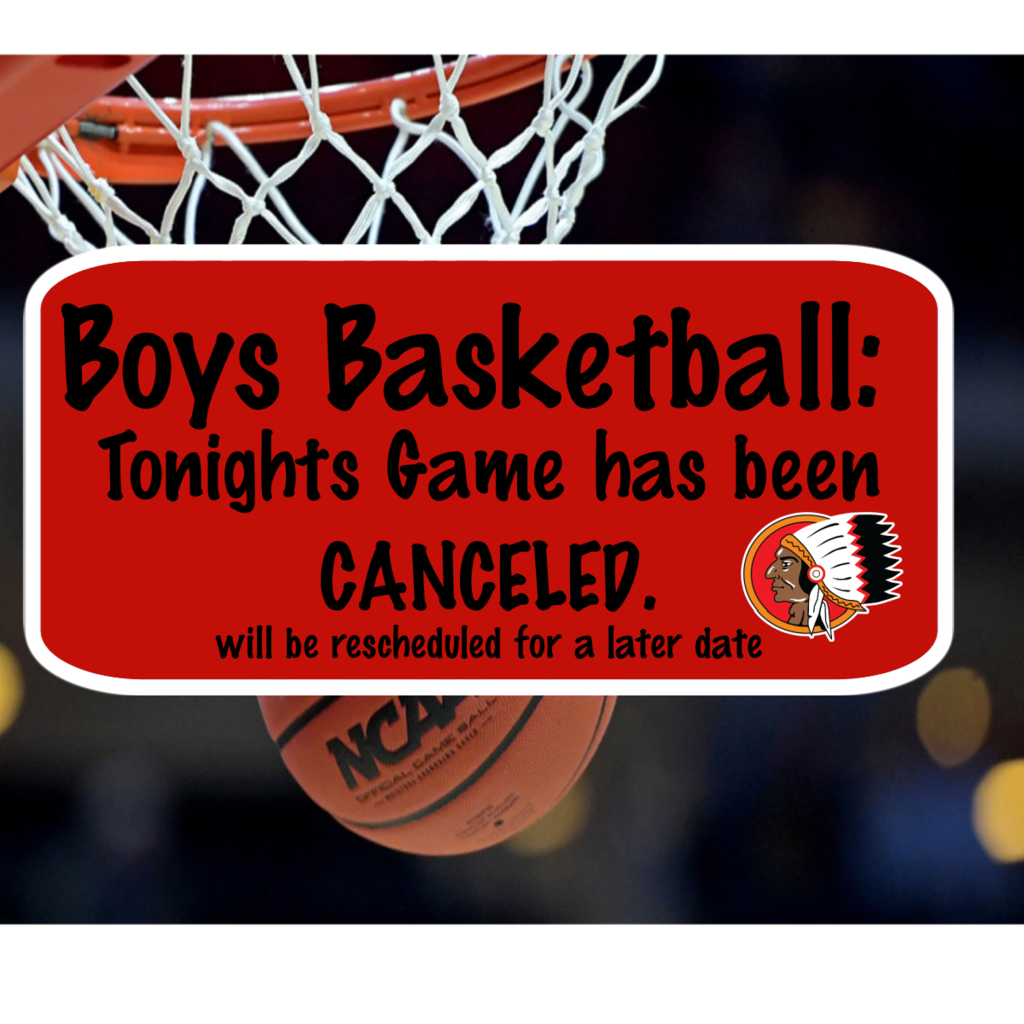 Makeup Game at Southside: 1/21/23

The 2023 PHS Local Scholarship Application is open and ready for seniors to submit applications. This one Google Form will serve as your application for several scholarships offered by local businesses and community donors that are specifically for PHS seniors. Scholarships and amounts vary from year to year. You may access the application at
https://forms.gle/3x61rMSaEAgsCVTg6
Deadline is February 10th at 3:30 pm.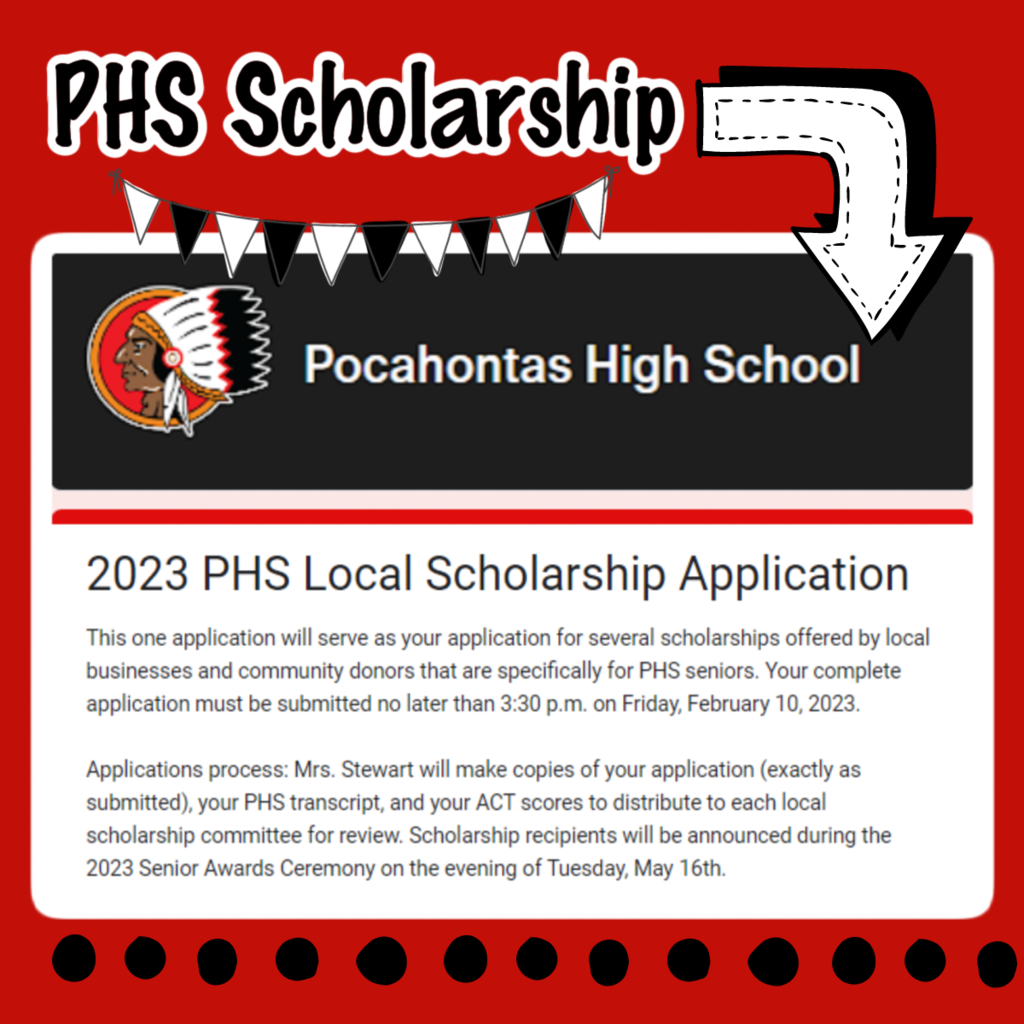 Mr. Vaughn gave a presentation about the past, present, and future of the News on television and the advancements in predicting weather forecasts. He showed the Rotary & Rotary Interact club examples of older TV stations newsrooms compared to the more modern versions, as well as older renderings of Weather Radar to compare to the vastly superior modern versions. He even used the storm from April 2022 as an example of how the radar is so advanced that they can confidently tell if a Tornado is happening just from Radar alone. He also explained the value of Social Media to the news team at KAIT8, and its important role in the future of delivering the News.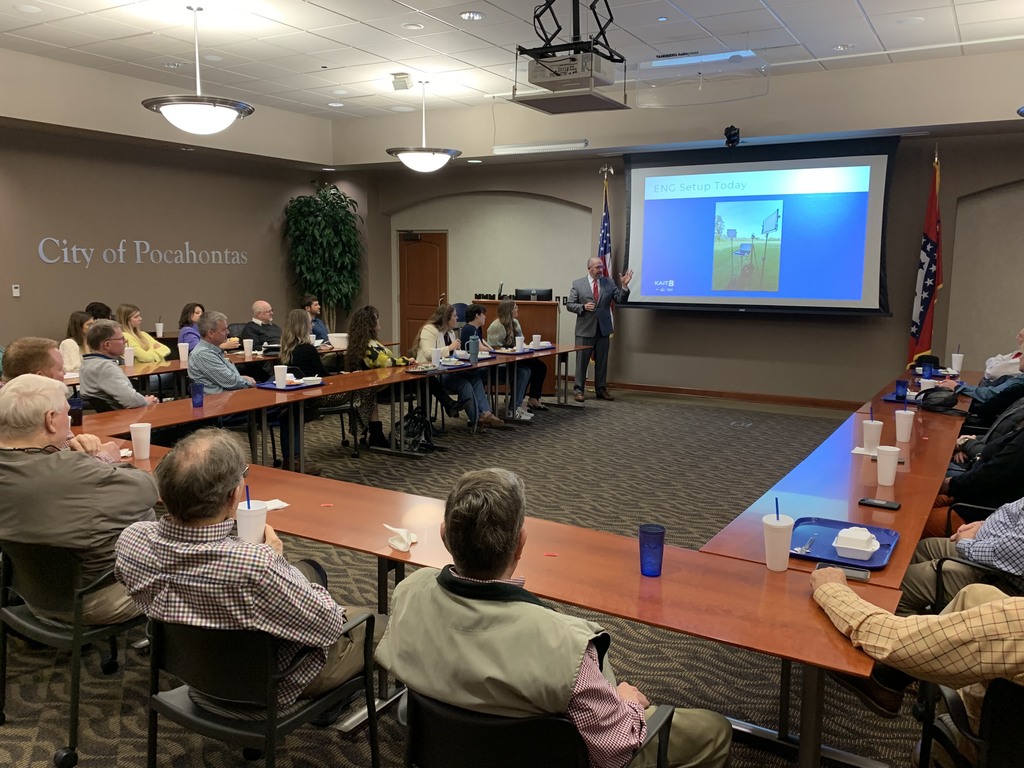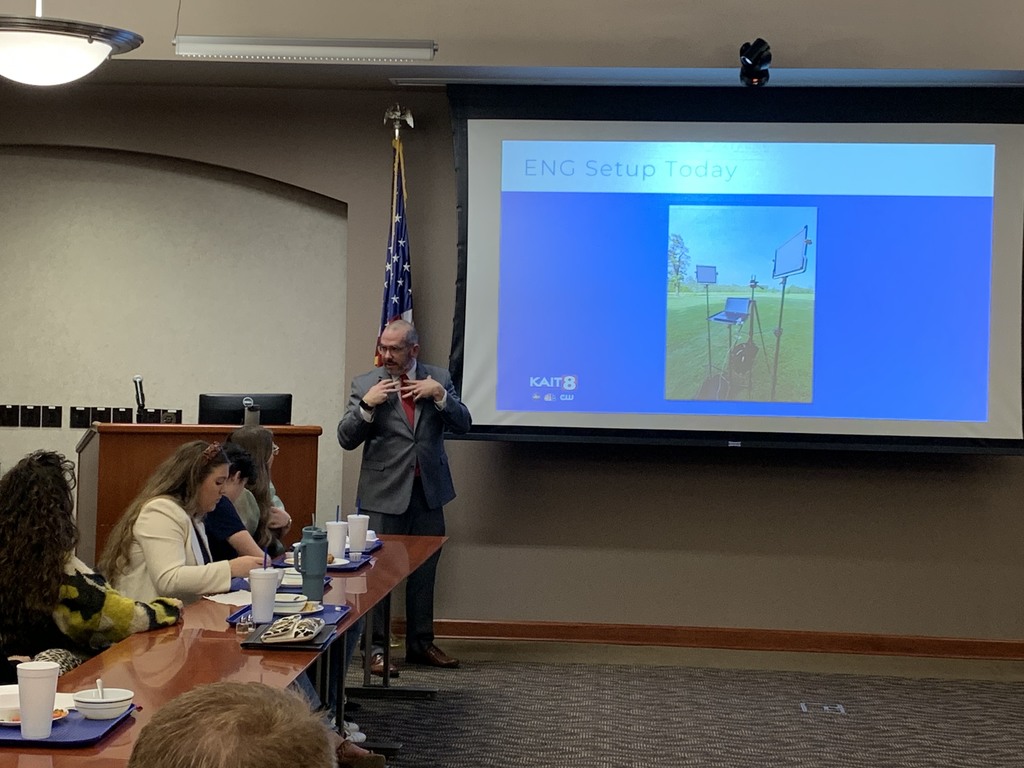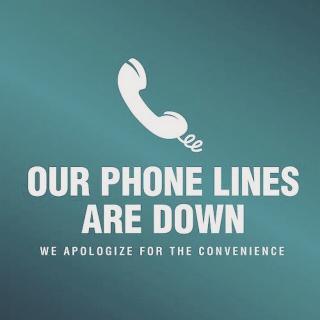 "Darkness cannot drive out darkness, only light can do that. Hate cannot drive out hate, only love can do that." -Martin Luther King Jr. 1963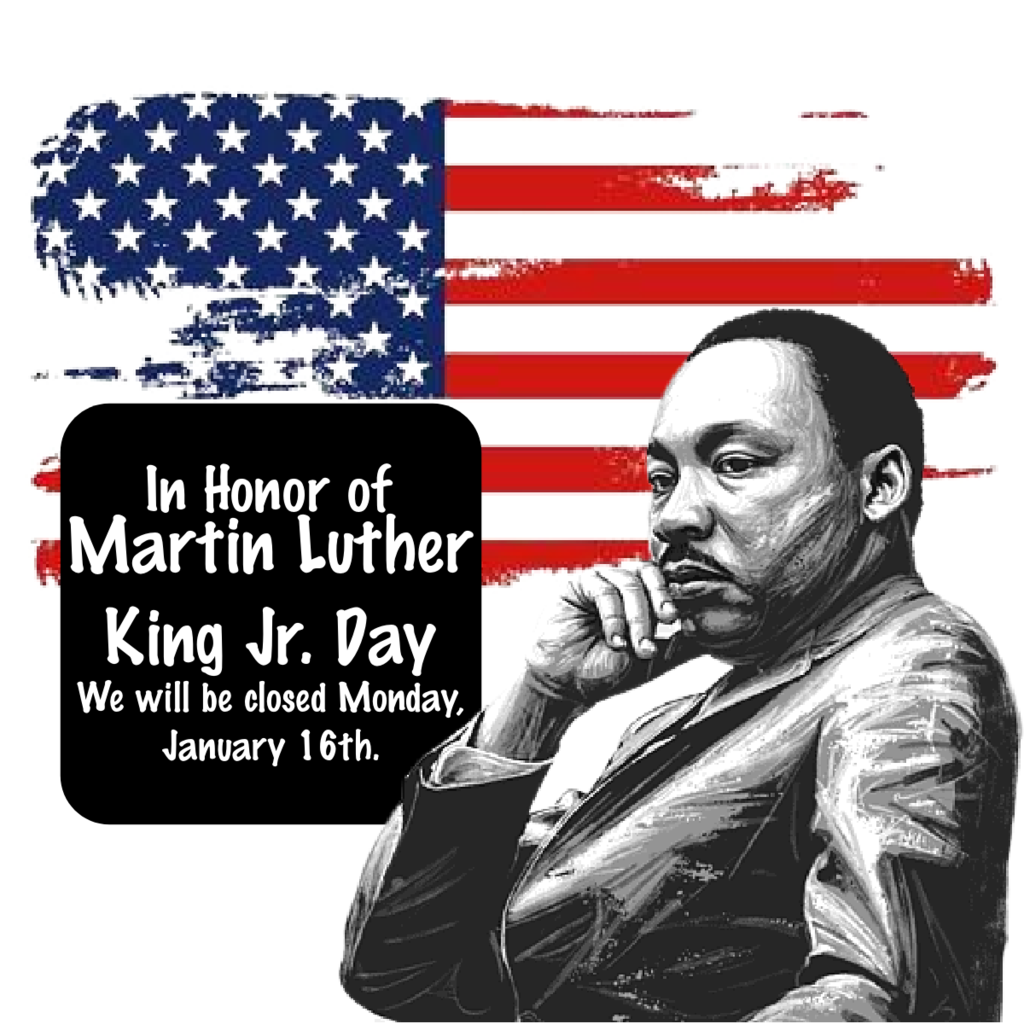 Yearbooks can be ordered and reserved online at
www.walsworthyearbooks.com
for $40 now through January 20th. After January 20th, prices will increase to $45. Yearbooks will be delivered in May.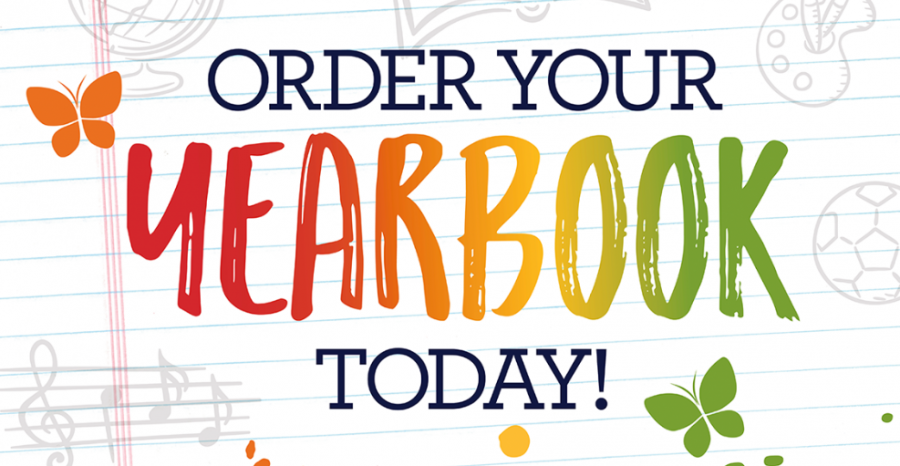 Hope everyone has a good break!!

Attention: There has been a time change for Saturdays basketball game!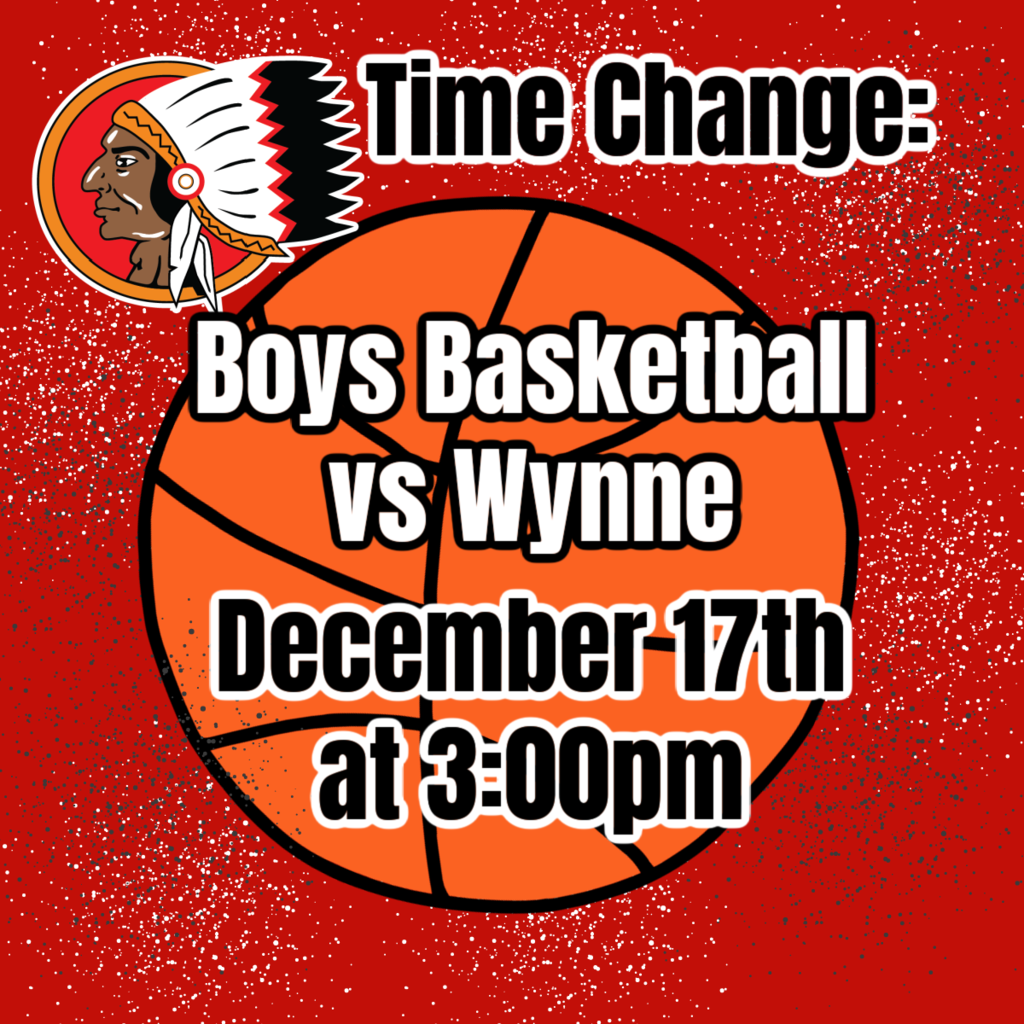 The Pocahontas High School would like to congratulate our SRO Terry Tribble on being selected by Arkansas Attorney General Leslie Rutledge as the Randolph County Officer of the year. He does so much for both staff and students. Thank you Officer Tribble for everything you do, the award is much deserved.