Pocahontas HS will host the 4A-3 Conference basketball tournaments this week. Come see some great basketball.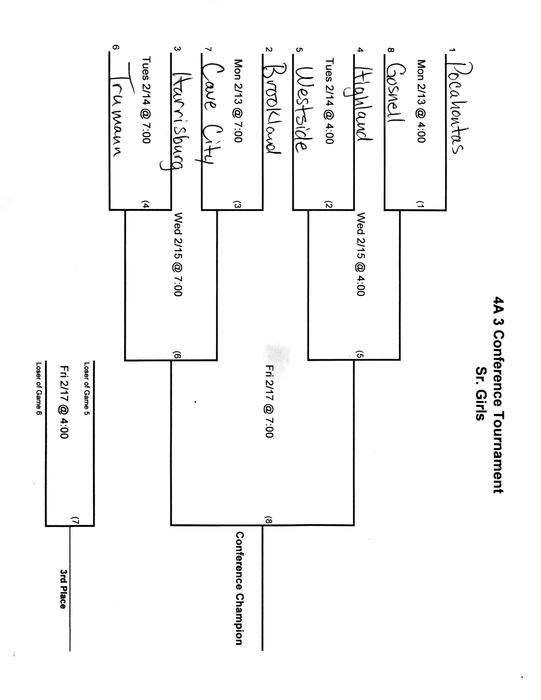 Pocahontas Public Schools will host the 4A-3 Senior High Conference Basketball Tournament February 13-18, 2017. Per conference bylaws, the only passes to be honored into the games will be 4A-3 conference passes as well as Arkansas Activities Association passes. The admission prices, as set forth by conference bylaws, will be $3 for students and $4 for adults.

The Pocahontas School District has been notified today, by the Arkansas Department of Health, that a high school student in the district has a confirmed case of the mumps. The district will work in collaboration with the Department of Health to provide information and guidance to parents regarding the virus. Per instructions from the Health Department, a letter will be sent home to parents of high school students and/or parents of students who ride the same bus as the student with the confirmed case of mumps. This letter will provide specific information and guidance to parents. The primary goal of the district is to ensure the health and wellness of our students and staff. Parents may contact their child's school nurse with specific questions related to their child and/or the virus.

The boys and girls basketball games to be played on Thursday, February 2, at ICC have been canceled.


Jr/Sr Boys Basketball @ Corning has been changed from Thursday, Jan. 12 to Friday, Jan. 13 beginning at 4:00 pm.

Boy's basketball games, between Pocahontas & Hoxie, to be played tonight @ Hoxie have been postponed and will be rescheduled.

Pocahontas Schools will be closed today due to current weather conditions.

The regular October Board meeting has been moved to Tuesday , October 18, and will take place in the District Meeting Room in the High School Business building. The meeting will begin at 8:00 p.m.

The 7th Gr. and Junior B volleyball games at ICC on Thursday, September 29, have been cancelled. All other scheduled volleyball games will be played.

The Junior Varsity football games that were to be played on 9/26 and 10/3 have both been cancelled.

The 7th grade and Jr. B Volleyball game against ICC has been cancelled.

All forms for the shots that will be given at Pocahontas High School and Junior High by the Health Department must be turned in Monday morning.

Our phones came back online around 1:30 pm today. Thank you CenturyLink!

Having some phone issues this morning. Inbound calls get a busy signal. Please hang tight while CenturyLink works to resolve the issue.

To access the Home Access Center-Click Explore on our website, select your school, Click Explore again. Listed under the Parents header.

Pocahontas Redskins will host Blytheville Chickasaws in AAA Benefit games on Tuesday, August 23, 2016. JH game @ 5:30 pm and SH game @ 7:30 pm. Tickets -$4.00 per person. Only AAA passes can be accepted per AAA requirements.

Thank you PSD staff and parents for your collaborative efforts towards making the first week of the new school year a positive one for our students! We hope each of them has a great year!

You can now apply for school meal benefits online! See our Nutrition page for video and link to the form.
http://goo.gl/wx70KL